Recently we have seen some important improvements to the Euroalert search engine
euroalertSearch
. Making the most of your suggestions (which we have not been short of) and some of our own ideas, that until now we had not be able to implement, we believe that
we have significantly improved the quality of our search results
. In any case, we are continually updating and making improvements on a weekly basis whether or not they appear in our blog. If you find an area of information for which EuroalertSearch does not provide sufficient quality of contents or, you think does not highlight the relevance of a particular website, do not hesitate to contact us so that we may analyse and resolve the issue.
Along with this update, we have taken the opportunity to release the
EuroalertSearch search engine widget code
so that you may install it on your websites or blogs as we said in our previous post about the
installing euroalertSearch in the search bar of your browser
.
Those of you that use
iGoogle
can also install euroalertSearch with the gadgets of your profile page. The point of this gadget is similar to the
euroalertSearch plug-in for the search bar of browser
which we released recently. We created it so that you can perform optimum searches on European topics easily without having to go to
Euroalert.net website
.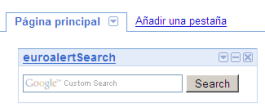 So, we hope that the users of distinct services and programmes will be able to reap the benefits of euroalertSearch's capabilities. You can
install the euroalertSearch gadget to your iGoogle profile
by clicking on the link or
review the more detailed information available at Euroalert.net
. As always, if you have any doubts or need support with any of our tools you can contact us by email at
issues@euroalert.net
.
All the
information about our euroalertSearch gadgets and widgets
is in the section
Widgets and tools for the Euroalert.net community
. This is where all future tools will be published for the Euroalert.net community.